Poultry

I, as a 4-H member, have been raising chickens, and on and off the years ducks, for the past 8 years. I started out with a trio of white pekin ducks and a pair of old english game bantams. As I had the birds I found out that I was more interested in the chickens and my bantams grew from there. We also would sometimes bring home a couple standard size chicks from the local feed store for big brown eggs that we love to cook with.

Currently, we have 13 chickens and 1 duck. The duck is my brother's pet and he has a mallard drake. I have a few chickens and the rest are my brother's as well. My chickens include a silver-laced Wyandotte pullet, a Rhode Island Red pullet, a Splash sport old english game bantam cockerel, 2 blue old english game bantam pullets, and 1 blue OEGB hen. The 2 "big girls" are for eggs and they are fun to watch around the yard too. My old english are what I show in 4-H. The trio of younger birds are all out of my blue hen, so I am looking for new blood, preferably a nice blue OEGB cock. My brother's chickens include a black sex-link hen, a rhode island hen hen, a black silkie hen, a white silkie hen, a brown red OEGB cock, a white silkie/OEGB cross pullet, and then he took in a standard mix rooster that we found on the side of our road.

All of our birds are free-range and are fed a non-medicated 16% protein crumble feed. Since they are free-range, they get all the grit they need out of our gravel driveway as well as all of the insects. All of our hens lay eggs, even in the winter, so we always have fresh eggs, whether they be bantam or standard size eggs.



I have been showing poultry in 4-H for 8 years. In 2004, I won the Champion Intermediate Poultry Showman at the Oregon State Fair. That year, we also took 4-H Grand Champion Bantam Cockerel with a Blue Golden Duckwing cockerel that I hatched myself. I also have taken Grand Champion Poultry showman at my county year for the past few years.


My Bantams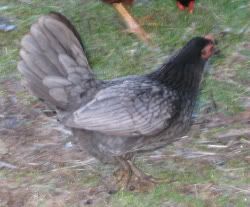 This is "Claire", a blue OEGB pullet that I hatched out on April 22, 2006.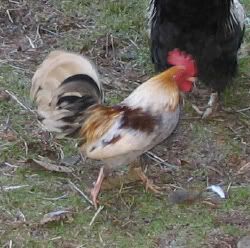 This is "Marco", our sport OEGB cockerel, hatched on April 22, 2006 - brother to "Claire".



"Marco" (OEGB cockerel), "Claire" (OEGB pullet), and my wyandotte pullet.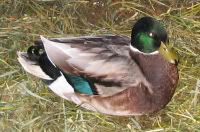 Our mallard drake, "Toasty".






Copyright © 2004, 2005, 2006 - Vicki Moore
All Rights Reserved.