Rabbits

I used to be apart of the showing and breeding world with Netherland Dwarfs rabbits for the past 5 years. I had a couple big wins and I enjoyed it, but the time and committment that the rabbits required has become too much and I am selling my herd of dwarfs. I still have several rabbits available for sale. I have decided to keep a few rabbits for 4-H. You can see those rabbits below.

Rabbits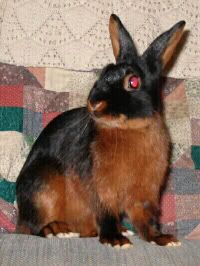 Meg's Fresh Prince
Tan - Black Sr. Buck, DOB: 3/5/06
Sire: Meg's Cody
Dam: Greyhound Stud's Beautiful
Prince is a very stylish tan buck that comes from Meg Wagoner of Black Fire rabbits. Meg took BOB Tan at Tan Nationals 2006, and has several other big wins. I have always loved the tan breed but never had room for a tan. Now that I am selling out of dwarfs, I acquired a tan. I showed Prince at my local county fair this past summer. Prince walked out of that with BIS! He has a gorgeous deep red tan factor and a glossy jet black top coat too. Just gorgeous!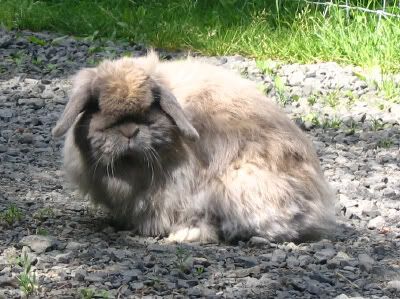 Hobbs' Glory
American Fuzzy Lop - Blue Tort Solid Sr. Doe, DOB: 5/7/03
Sire: Tommy's Memphis
Dam: Hobbs' Hannah
Glory has 5 ARBA legs which include a RIS win. I took Glory to my county fair this past summer and we walked away with RIS as well. Glory is just the sweetest rabbit you will ever meet. She has the greatest personality. She has that sassy attitude and she knows what she wants, however at the same time, she will let you do pretty much anything to her. I just love this rabbit!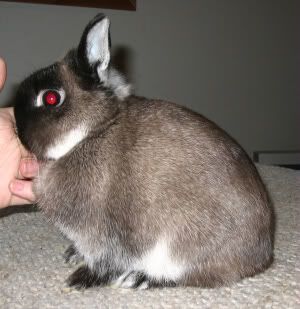 Moore's Reno
Netherland Dwarf - Sable Marten Jr. Doe, DOB: 5/29/06
Sire: Moore's Going Extreme
Dam: KP's Nevada
I have decided to hold onto Reno for now. She is a gorgeous, typy doe that is built like a tank with an excellent head, and great coloring and shading. However, she was born with a white spot on her nose with makes her unshowable unfortuantely. She may be a good showmanship rabbit as I am working with her and her posing abilities. On top of that, she's just a sweetie!


Coming soon...
Netherland Dwarf - Black Otter Sr. Buck
Check back for updates in the next few weeks for our new buck!




Copyright © 2004, 2005, 2006 - Vicki Moore
All Rights Reserved.