Rabbits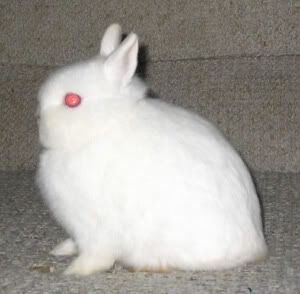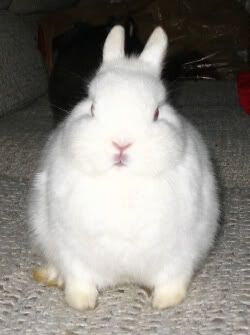 Moore's Desert Rose #19
Netherland Dwarf - Ruby-Eyed White Jr. Doe
DOB: 7/30/06
Sire: Moore's Going Extreme
Dam: Moore's Pudge
Comments: This little doe is special because she is the only showable kit out of "Going Extreme" that I have, and she is also a 3rd generation Moore's bunny. Her grandsire, Moore's Woolie Boy, was one of my first real show rabbits born in my barn and he currently has 2 legs. "Rose" is also one of the granddaughters out of "Oasis" and "Tonic", 2 excellent CM's bunnies. I hope "Rose" brings great things for me in the 4-H show world, since, I am "retiring" from ARBA showing for the time being.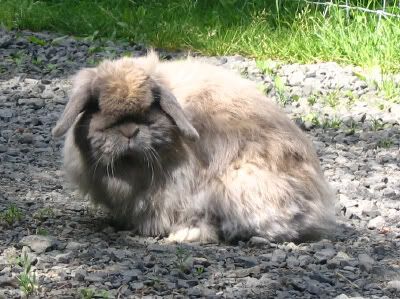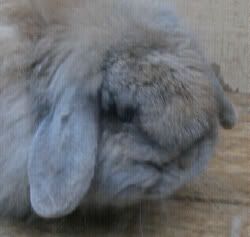 Hobbs' Glory #GLO
American Fuzzy Lop - Solid Blue Tort Sr. Doe
DOB: 5/7/03
Sire: Tommy's Memphis
Dam: Hobbs' Hannah
Comments: Glory, or as she is called here at HG "Fuzzy", is one of the sweetest rabbits you will ever meet. She will let you do anything to her pretty much. She is mainly bred out of "fuzzy hollands" and is a very big majority fuzzy Holland Lop. This prevents her from being registered and granded. She does have 5 ARBA legs and one of those legs includes a RIS Youth back in 2003 when she was a junior. She won RIS at my 4-H fair July 2006, and I will continue to bring her along to 4-H shows as long as she holds up. She is definitely one of those natural show bunnies!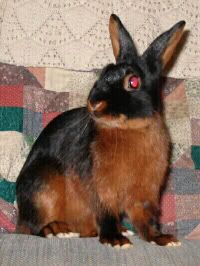 Meg's Fresh Prince #E63
Tan - Black Sr. Buck
DOB: 3/5/06
Sire: Meg's Cody
Dam: Greyhound Stud's Beautiful
Comments: Prince is a very energetic rabbit that loves to explore. Of course, what tan isn't? He has an excellent jet black top coat with nice deep tan factor. He is a little long in his shoulders, but that didn't stop him from winning BIS at my 4-H fair in July 2006. He will continue to tag along to 4-H shows through-out the year so look out for him!





Upcoming Litters

Netherland Dwarfs
CM's Oasis X CM's Tonic
Bred: January 8, 2007
Due: February 8, 2007
Expecting REW & Sable Marten.
We will be keeping any and all REWs from this litter, but if you are interested in a sable marten, let me know and I will hold one for you. We only did this breeding to get a REW buck. All other rabbits not pictured on this page are for sale.