Pygmy Goats have always been my favorite. We started out with a couple grade does, bred them, and our addiction started once we had those bouncy babies! We own NPGA registered Pygmy Goats as well as a small herd of grade pygmies. We show the grade pygmies in 4-H and they are our beloved pets. If you have any questions, feel free to email me!

Any pygmy goat with the surname "Hillside Gems" before it's callname was born here!




Scabrock Critters Mercy :: Pygmy Doe :: NPGA registered
DOB: March 5, 2004
Sire: PGCH Bizbomb Acres Irish Hooligan
Dam: Town & Country Perfect Prize

Show Winnings:
2006 Columbia Co. Fair - 1st 2-year-old doe

Kidding History:
3/24/06 - Quads; 2 does & 2 bucks
Bred to Helvetia Meadows Max and due February 20th, 2007



Mercy was our first registered pygmy here at Hillside Gems. She's my 4-H showmanship pygmy goat and a great brood doe for my NPGA herd. We bought her in June 2006 after she had kidded for the first time, very easily I might add. Mercy has good bone with a strong neck and smooth blending. She is wide with good shoulder depth. I'd really like to see stronger, straighter legs and longer hocks. More depth by her flank with a wider chest floor. Overall she is a very nice brood doe and will start us out right. She is just like the family dog and will follow you everything. She's very affectionate and loves to be rubbed. We just love her!
Flying Goat Farm Puffin :: Pygmy Buck :: NPGA registration pending
DOB: September 8, 2006
Sire: Rosebrook Extreme Rebellion
Dam: Sunset Ridge Jenna

Show Winnings:
Not shown

Stud History:
N/A



Puffin is a very stylish little buck. He is very wide through out with excellent muscling, a strong topline, good width between the hocks, and to add to the cuteness factor, he has a great little bucky head that is short, wide, and dished. He stands on strong straight legs as well. He is pictured here at 4 months old and we believe he will just keep growing into a better buck. I am excited to show him next spring and see how we competes. He reminds me of his maternal grandsire, Dakota, in his style very much!
Hillside Gems Angel :: Pygmy Doe :: Not registered
DOB: February 15, 2003
Sire: Phileo Farms Masterpiece
Dam: "Rosebud"

Show Winnings:
2004 Columbia Co. Fair - Grand Champion
2005 Oregon State Fair 4-H divison - Reserve Sr. Champion
2006 Columbia Co. Fair - Grand Champion

Kidding History:
2/16/06 - triplet doelings
Will be red to "Puffin" in June for November kids



Unfortunately, Angel is not registered. Her sire is registered, but her dam's previous owners didn't believe in registering their stock so I was never able to get the information I needed to register Angel and her brother. But now she is just a 4-H goat. I have shown her every year since she was born and you can see her biggest results. Angel is a very pretty goat, well put together. I wish she had more bone and muscling, but I like her overall structure. She's also a sweetheart. We lost her dam to unknown causes February 17, 2006, and she was our first goat ever, so Angel is very special to us.




Due: February 20th, 2007
Bred: September 29th, 2006
Doe: Scabrock Critters Mercy
Buck: Helvetia Meadows Max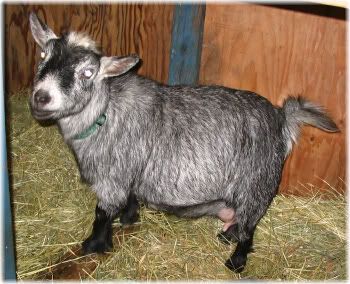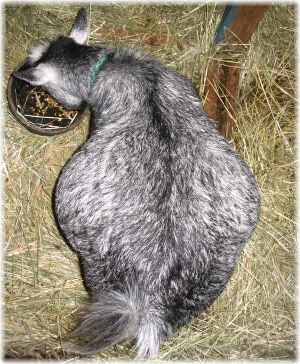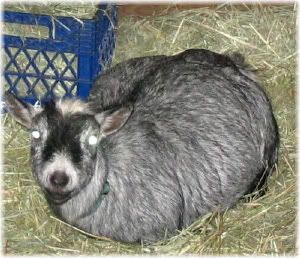 She's going to pop! Pictured on day 142.