Dairy Goats

We acquired our first dairy goats in December 2006 from Suzanne Strong. We went looking for an Oberhasli doe strictly for 4-H showmanship. She had 2 experimenal alpine/oberhasli does and an american oberhasli doe available at that time. One of the experimental does, Stella, caught my eye because of her dark bay color and she lead perfectly. Apparently, the story behind her and the other experimental doe was they had been together since birth. I figure why not take both? The other doe, Savanna, would make an excellent breeding doe with a nice udder anyways.

Now we have Stella and Savanna. They both kidded in May 2006, and between the two of them we got 3 bucklings! We were able to find a great home for the kids after we wethered them. So we are trying this again this year, using a different stud buck. Stella is due in April and Savanna will be kidding in May. Let's hope for some doelings this time.

2006 was my very first year showing dairy goats in 4-H. I went to my county fair with Stella and Savanna and they took Grand Champion Oberhasli (Stella) and Grand Champion Recorded Grade (Savanna). Stella also took Best In Show out of all the dairy, pygmy, and meat goats for the 4-H division. I also won Senior Showmanship with Stella as my showmanship goat, which helped me qualify for the State Fair. I took only Stella to state fair (as it was my first year with dairy goats and only wanted to worry about milking one doe) and we did pretty well for our first year. In showmanship, I was one of the top 8 senior showmen for the 2006 Oregon State Fair and was in the final championship round. In the conformation class, Stella took Reserve Grand Champion Oberhasli, losing to another doe that originated from Suzanne Strong apparently. So needless to say I was pretty thrilled!

I have to say Dairy Goats is one of my favorite 4-H projects, if not my favorite. I will be competing at the State Fair next year, so watch out everyone!

We are expecting Oberhasli kids in April and May! Check back then for pictures of our new kids!


Does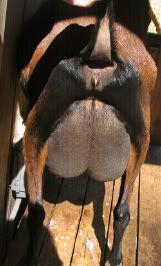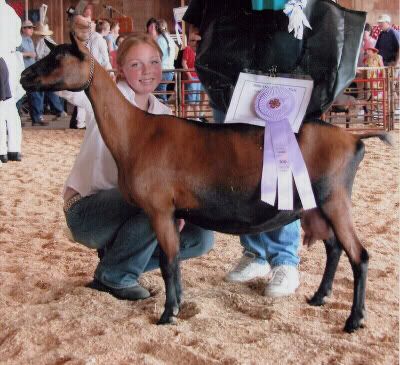 Ober-D' Rainbow REN Stella
Experimental Doe - DOB: 2/22/03
Sire: Hill N Holler MRQ Renissance (Alpine)
Dam: Echo-Hollow's DMG Estrella (Oberhasli)

Stella is bred to an American Oberhasli, Ober-D' Rainbow Troubeaudour. She's due April 18, 2007.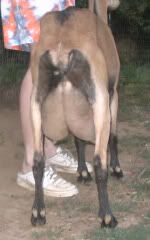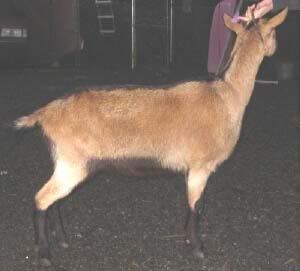 Ober-D' Rainbow RCO Savanna
Experimental Doe - DOB: 2/25/03
Sire: Ober-D' Rainbow DMG Rico Bueno (Oberhasli)
Dam: Hill N Holler A. Vanna (Alpine)

Savanna is due to come back into heat around December 9th, so hopefully we will have her bred to Ober-D' Rainbow Troubeaudour at that time and have her due around May 10, 2007. Savanna's body pic was taken December 2006. I do not have a body pic of her clipped and in milk at this time. Sorry!



Past Oberhasli Kids

2006 Bucklings



From Left ot Right:
Born 5/12/06 - Ober-D' Rainbow Karl (Ober-D' Rainbow Red Valarian X Ober-D' Rainbow Savanna)
Born 5/12/06 - Ober-D' Rainbow Squid (Ober-D' Rainbow Red Valarian X Ober-D' Rainbow Savanna)
Born 5/5/06 - Ober-D' Rainbow Rico (Ober-D' Rainbow Red Valarian X Ober-D' Rainbow Stella)



Savanna with her twin boys on May 12, 2006, the night after they were born.



Stella with her day old single buckling, Rico, on May 6, 2006.






Copyright © 2004, 2005, 2006 - Vicki Moore
All Rights Reserved.